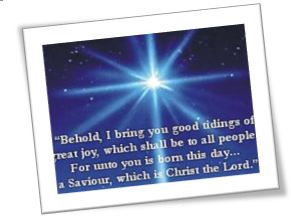 Sundays in Advent - November30, December 7, 14 and 21, Worship at 10 a.m.Our families light the Advent candles; we use the Gospels of Mark, John and Luke as our guide for preaching and reflection.
 Advent Vespers - Please join us each Wednesday of Advent for Advent Vespers.  We meet at 6:30 p.m. in the Garden Room for thirty minutes of silence, word, reflection and song.
Dressing the Church for Christmas - Saturday, December 20, 2 p.m.  Candles, ribbons, carols please join us for a day of festive preparation.
Christmas Seasonal Sharing - Sunday, December 21, 11:30 a.m. We assemble and deliver baskets of food and gifts for families in our community.
Christmas Eve Worship - Wednesday, December 24 at 4 and 10 p.m.     Candles, choirs, bells, brass and Holy Communion welcome the Christ into our midst.
First Sunday of Christmas - Sunday, December 28 at 10 a.m.  We will gather at St Mary's Episcopal Church with our friends from Emanuel, Manchester, St. Mary's Episcopal and Center Church for a Carol Sing and worship. Pastor Hedberg will preach. A coffee hour will follow.
Gifting Concordia in 2014 - Last Deposit Monday, December 29  All financial gifts to be credited in 2014 must be in the office by noon